Avocadofinca – Los Llanos – Apartment GF
from 60 €
Property Description
Avocadofinca, near Los Llanos, enjoys a quiet yet central situation at an altitude of 400 metres, thus ensuring comfortable climatic conditions.
Avocadofinca offers splendid views of the mountains, the ocean and the cheerful town of Los Llanos.
The three holiday homes and a beautiful swimming pool are set in spacious grounds with many avocado trees.

Ground floor apartment
The spacious top floor apartment enjoys spectacular views of the mountains and the ocean. Apart from plenty of space and comfort, the house offers many extra's, such as a washing machine and satellite television.
Ground floor apartment
— spacious and well equipped living room-cum-   kitchen
— 2 bedrooms with two beds ( 1,8 x 2 m + 1,5 x 2 m)
— Digital satellite television
— Broadband Internet connection
— Bathroom with shower, water closet and    washing machine
— Large patio
— Use of the swimming pool (non-chlorous and chemical-free) with solar-heating system
Maximum number of occupants:
3 adults and child.
Rate per day for 2 persons: from 60 euro
---
The other apartments of the finca you can find here: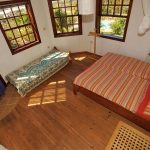 Avocadofinca  – Top Floor Apartment
Maximum number of occupants:
4 adults and child.
Rate per day for 2 persons: 68 Euro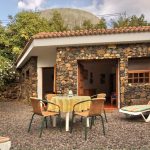 Casita Avocado
Maximum number of occupants:
2 adults and 1 child.
Rate per day for 2 persons: ab 52 Euro